Camping
Its been said that we have one of the flattest camping fields in Wales which is wonderful. Plenty of space for you to choose your own pitch and we don't like to " squeeze " you in. Quality not quantity. All that we ask is that you are considerate to your fellow campers when you are pitching up, theres plenty of space for everyone. You can choose to pitch near to the babbling River Usk or the quiet area at the bottom of the field, however, be warned its quite a long trek to the toilets !! Strong bladders are required. Where ever you want to pitch, the choice is yours. Enjoy use of our picnic benches and our new ( nearly established ) picnic area that gets the last of the late evening sunshine with fruit bushes ( nearly established ) for your enjoyment and an amazing view over the campsite. We also have a fire pit for you to use, one camping group at a time and agreed at point of booking due to its size. Buy a leg of Welsh lamb and slow roast it all day while you're out ( we've done it ) its beautiful. Children MUST be supervised at all times in this area due to the heat from the fire pit when its in use.
Pricing
£12 per Adult
£12 per Child
Under 5s are free.
Use of showers are included in this price.
Subject to availability, we can also accommodate day visitors at a charge of £2 per person per day but we must be informed of this prior to arrival.
We allow two pitches per week for booking in well behaved dogs. You are welcome if you book in advance, at £2 per night per dog. Dogs must however be kept on leads and controlled at all times while onsite. Please take dogs off site to complete their doggy doo doo's, however, if they don't make it we have a doggy doo doo bags and a bin for your use. This is purely for hygiene reasons on the camping field.
We only allow campfires if logs and kindling are purchased (only £5 for both) from ourselves. Fire pits are provided free of charge which we would prefer you to use due to the safety aspect. We can also supply a BBQ ( where available ) with a bucket of charcoal for £5. Please be advised that we are only able to take cash payments while on site.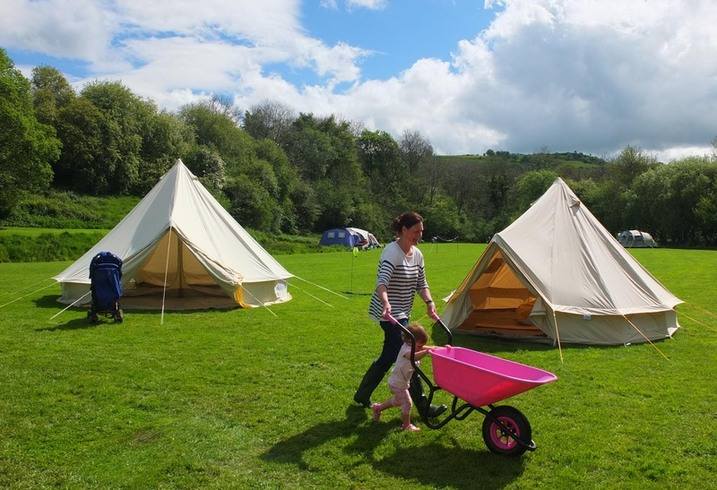 To Book
As we are a fairly small site, pre-booking is essential. You can do this online via our website - click on the calendar to select your dates and book today!
Arrivals
You can arrive any time after 12.30pm on the first day of your booking. Upon arrival at the site, please check-in at the house. Latest arrival time, if possible, is 8.00pm.
Departures
Please by 11.00am.
Groups

We do not allow any sort of hen / stag party groups unless you're wanting a quiet relaxed break away before your wedding and not the normal " Hen / Stag " type parties. We do not accept any Duke Of Edinburgh expeditions.
Bank Holiday Weekends
Due to the complexity and demand of bank holiday weekends we have a minimum of two nights booking.
Other
Please note we do not have any electric hook-ups for general camping or any plug points in our shower block for electrical appliances.
For more information, email us on [email protected]
Terms
If you need to cancel your camping holiday before your arrival date and we are able to re-let your holiday, we will refund your payment less a 20% admin fee. In the event that we are unable re-let your dates, no refunds will be made. If you are concerned about the prospect of cancelling, please take out holiday insurance. Bookings are not transferable to another family without our prior agreement.