Campervan and Electric hook up for tent camping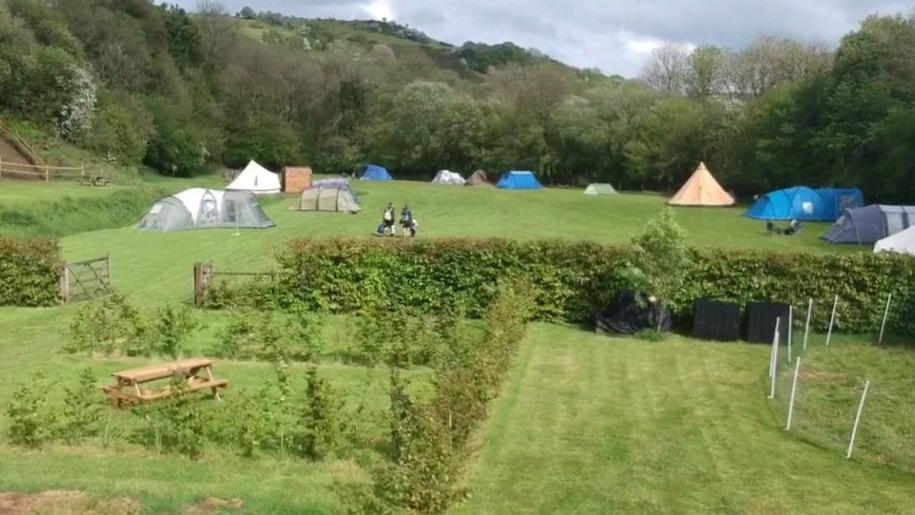 Our two pitches measure 9mtr x 9mtr for small camper vans and electric hook up camping ( see size restrictions for camper vans ) Sorry we cannot accept large motorhomes due to the access.
The restrictions for van size are: Length – 5.5 mtrs, Width – 2.5 mtrs, Height – 2.5 mtrs ( access only due to low trees ). To give an idea of " what fits " VW transporters and Mercedes Sprinters fit nicely. Please note if you book this pitch and your vehicle is too big we won't be able to even consider squishing you in unless we chop down a tree or two ! Please do give us a call if you're not sure and we will help you.
The pitch has an electric hook up, which is included in the price. The pitches are hardstanding grids allowing the grass to grow through. Showers, toilets and washing up facilities are also part and parcel of your pitch! There is also space for your awning on the pitch and room to put out your table and chairs (welsh weather permitting) ! Due to the size of the pitch our recommendation would be 2 x adults and 3 x children. Please do enquire for any other group party size, we can normally sort something out. Due to the nature and location of the pitches, vans will have to be in position in the pitch before 8pm due to our no noise policy after 10pm. Please note that there is NO chemical toilet disposal point due to environmental factors.
Pricing

£30 per night for two people - £15 per person per night above two people. Maximum for 4 people. This includes electric hook up, gridded grass hardstanding and use of all of the other campsite facilities.
You can arrive anytime after 1.00pm and before 8pm on the first day of your booking. Departure time please by 11.00am.
Book online
Simply search for your required dates in the calendar above. Full payment will need to be made at the time of booking.
Terms
If you need to cancel your pitch before your arrival date, we will endeavour to offer you an alternative date for your stay. However, if we cannot find a suitable date to re-arrange your stay, no refunds will be made. If you are concerned about the prospect of cancelling, please take out holiday insurance. Bookings are not transferable to another family without our prior agreement.