Shepherds Hut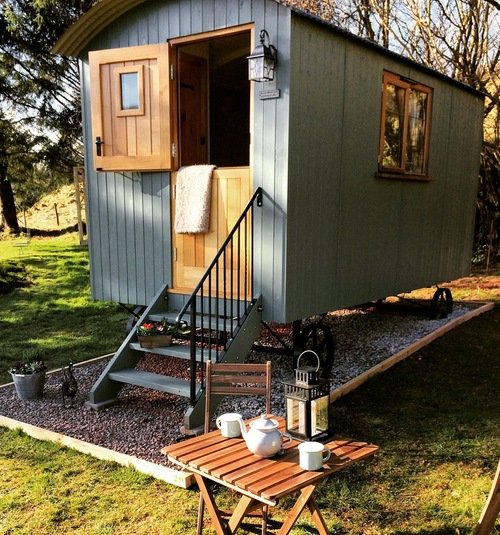 Our bespoke Shepherd's Hut, beautifully hand-crafted in Wales by Black Mountain Shepherd's Huts, is available for weekly, midweek or weekend rental.

Why not cosy up in our beautifully crafted Shepherd's Hut, with it's very own wood burner to keep you toasty and warm this camping season. Get away from the hustle and bustle, and enjoy a cosy break in our quiet and peaceful surroundings.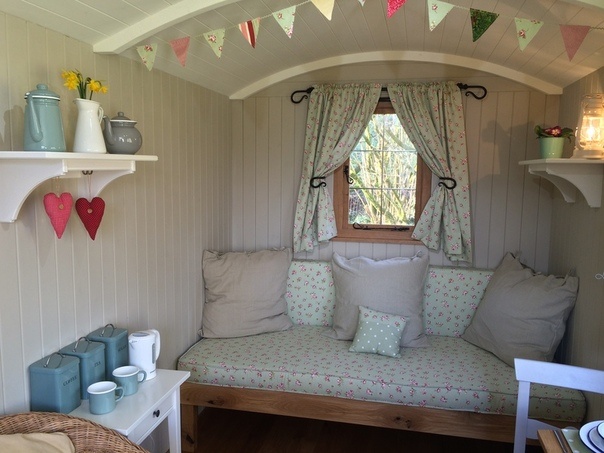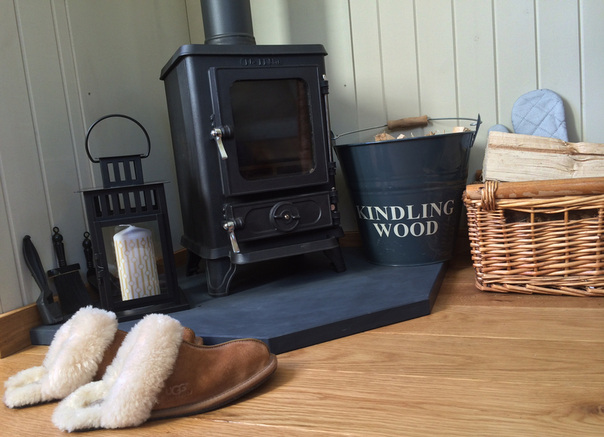 The Shepherd's Hut is well equipped, meaning you will be able to travel light for your holiday in the Brecon Beacons.
We provide:
Fresh linen, towels and bedding on arrival.

Continental breakfast on the first day of your arrival. This applies to bookings of two nights or more. This does not apply to single night bookings.
A basket of dry, cut wood.
Tea & Coffee making facilities.
Outdoor seating with fire pit and barbeque

"A fantastic glamping experience. We've had a fantastic three days here, it's like a real home from home." - Karen & Dave
As the Shepherd's Hut itself doesn't host cooking facilities, we have handmade our own wooden kitchen area for you to rustle up your delicious meals while staying with us. We supply you with all cooking utensils, a three ring gas camping stove along with a fridge. An indoor seating area is available along with outdoor seating and a fire pit and BBQ where you can sit and relax with a cold glass of something, while dinner is cooking away. In the washing up area we also provide a selection of herbs ( when available ) for your culinary delights or indeed some cocktail making.

"Absolutely beautiful setting for a weekend escape. The Shepherds Hut was delightful.The fire was toasty and welcoming." - Rich & Toni
Pricing and Information
The Shepherd's Hut sleeps 2 adults. (Sorry, no children or pets allowed). The prices below are for the hut, not per person.
£90 per night up to two adults.
Please note our prices are the same throughout the season. If you are interested in coming to stay with us at Ynysfaen in the Shepherd's Hut for a longer or shorter break, give us a call, as we are happy to be as accommodating as possible.
Arrivals
You can arrive any time after 1.00pm on the first day of your booking. Upon arrival at the site, please check-in at the house. Latest arrival time, if possible, is 8.00pm.
Departures
Please by 11.00am.
Payment
Full payment via our website booking system will be taken at the time of booking.
Other Information
There are plenty of power sockets available within the Shepherd's Hut to charge any mobile phones, laptops etc.
There is no mobile phone reception at Ynysfaen, which allows you to escape from the hustle and bustle completely, but a short walk up the hill will ensure you can catch the odd message or email....that's if you want to be contacted!
Terms
If you need to cancel your Shepherds Hut holiday before your arrival date, we will endeavour to offer you an alternative date for your stay. However, if we cannot find a suitable date to re-arrange your stay, no refunds will be made. If you are concerned about the prospect of cancelling, please take out holiday insurance. Bookings are not transferable to another family without our prior agreement.
"Every last detail has been thought of and we felt so well cared for by our lovely host. From the amazing breakfast hamper for the first day to the fantastic unexpected extras like a roaring fire going for our late arrival, yummy fresh coffee and biscuits too, our stay could not have been made more special." - Jess & Tony.